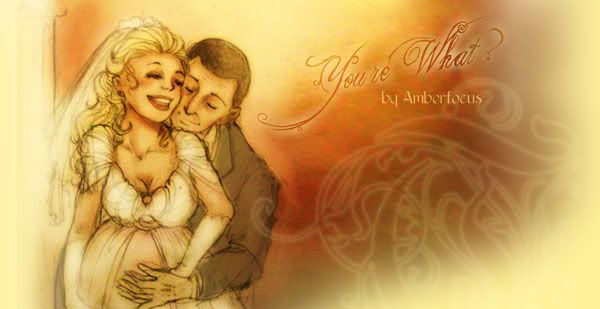 banner by

alizarin_skies
Title:
You're What?
Author:

amberfocus
Characters/Pairings:
Nine/Rose, Jack Harkness, Jackie Tyler, Mickey Smith
Genre:
Baby!fic, Romance, Angst, Fluff, Smut, Hurt/Comfort
Rating:
Adult
Betas:

amyo67
,

thetesh
Summary:
An unexpected pregnancy causes huge emotional upset in the lives of the Doctor and Rose. With Jack the only voice of reason, will this child lead them to happily ever after or tear them apart forever?
A/N:
And that's it. That's all she wrote. I have one more big twist up my sleeve. Hope it was worth the wait. Thanks for sticking with this fic for four long years. I'll try to be more prompt in future. Oh, and for those who have asked, my son is recovering quite well from the concussion. He's almost back to his old self.
Previous Chapters:
http://amberfocus.livejournal.com/262898.html
( Chapter Fifty: Begin as You Plan to Go On )